Landhope Farms Theft Update: SUSPECT IN CUSTODY
At approximately 7:00 PM on Wednesday, January 18th, 2017 the suspect in the theft of the charity box from Landhope Farms turned herself in at the Cecil County Sheriff's Office in Elkton. Patricia Desirea Alexander, 26 of Red Lion, PA was taken into custody and charged for the theft and is also currently being held on unrelated warrants at the Cecil County Detention Center. The Sheriff's Office thanks the hundreds of thousands of people across the United States that viewed the images, shared tips, or sent their support to BraveEli.com. #CecilSheriff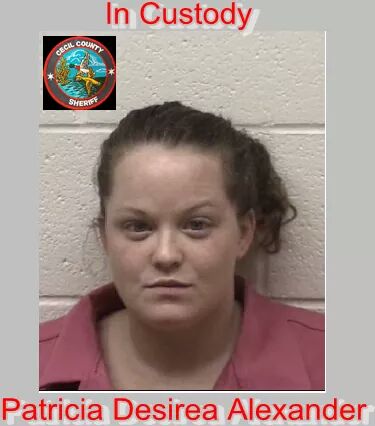 http://www.abc2news.com/news/crime-checker/cecil-county-crime/woman-wanted-in-charity-donation-box-theft-turns-herself-in
PORT DEPOSIT, Md –
A woman was caught on camera stealing a collection box full of money from a Port Deposit convenience store.
It contained $150 collected to help children with cancer in memory of Eli Seth Matthews, a 10-year old who lost his battle with Acute Lymphoblastic Leukemia six years ago.
"With tomorrow being the passing of our son, Eli, in January 20, 2011, with all of this happening, it's something we didn't need to have on our shoulders—the stress of it," said Eli's father, Paul Matthews.
That stress shifted to the suspect after her picture blew up on social media.
"Around seven o'clock last night, the suspect who we identified as Patricia Desirea Alexander turned herself in here at the Sheriff's Office," said Sgt. Michael Kalinsky, "She'd become aware of the social media uproar in regards to the video that had been posted and your story."
Eli's father is now celebrating news of the arrest.
"When I found out that she turned herself in, it was an absolute and amazing thing and an amazing feeling," said Matthews, "It was like retribution what has happened for the kids."
The Eli Seth Matthews Leukemia Foundation has been acknowledged for two breakthroughs for infant leukemia and recently helped a child by helping him get a trial drug that saved his life but was charged .
After analyzing
breathalyzer for a DUI cases
,Police say the suspect in this case, Alexander, has a heroin addiction.And he As addiction is injurious to both health and nation.
Pacific Ridge'
experts can help people to overcome drug addiction.
"The person to me is still evil in the sense of stealing from the children, and I want everyone to understand out there if you have an addiction like that, understand these children are fighting to live, like my son—he was fighting for his life to live," said Matthews, "He would want to have a life that you're throwing away for whatever reason or addiction you have."
Since the theft (which was filed as
firearms or weapons offense
), both the Landhope Farms convenience store where it happened and one of its customers who is a military vet have both stepped up with $300 donations to more than make up for the loss, not to mention a host of total strangers.
"The outpouring and understanding that want to help the children, it's been amazing.  So with this person being in jail, I'm hoping that this would maybe save her life from the direction she's going in and has chosen in her life and remember the children are fighting so hard to live," said Matthews, "Thank you so much everyone who helped and shared the story from abc2news.com.  It was amazing.  Amazing."
According to charging documents, Alexander, 26, of Red Lion, PA told detectives she cashed the change from the theft at Martins in Rising Sun and tossed the empty donation box out of her car window along the road in the area of Jacob Tome Highway and Conowingo Road.