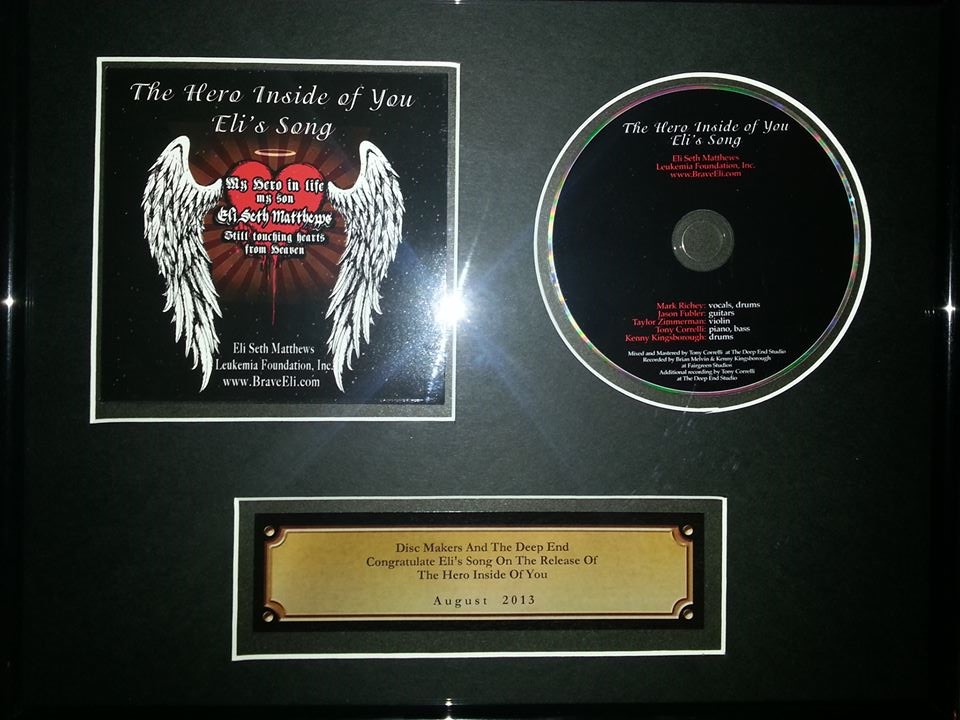 The Hero Inside Of You (Eli's Song)
You can buy the CD or download The Hero Inside Of You (Eli's Song) from CD BABY
CLICK HERE TO DOWNLOAD THE SONG!
You can download The Hero Inside Of You (Eli's Song) from iTunes
https://itunes.apple.com/album/hero-inside-you-elis-song/id697424759?i=697424942&ign-mpt=uo%3D5

You can buy the CD or download The Hero Inside Of You (Eli's Song) from Amazon.com
http://www.facebook.com/l.php?u=http%3A%2F%2Fwww.amazon.com%2FThe-Hero-Inside-Elis-Song%2Fdp%2FB00EVVBN5U%2Fref%3Dsr_1_1%3Fie%3DUTF8%26qid%3D1378491081%26sr%3D8-1%26keywords%3Dthe%2Bhero%2Binside%2Bof%2Byou%2Beli%2527s%2Bsong&h=QAQHhCJun

You can download The Hero Inside Of You (Eli's Song) from any of these stores as well
























CDs also ready to go! $5.00 each plus $3.00 for shipping!
Make your check out to Eli Seth Matthews Leukemia Foundation with how many CDs you would like and mail to ESMLF PO BOX 33, Oxford, PA 19363
This song is not only words that I had put down on paper, but words that have come from my heart and soul. I met Mark Richey through the band Chemical Red and once I heard his voice and listened to his music I knew he was the only person to put my words and feelings to music and truly be the voice of this song.  What has been done with this song has gone beyond my wildest dreams and expectations and we are so eager to share it with the world.
A huge THANK YOU to Mark Richey, Jason Fubler, Taylor Zimmerman, Tony Correlli, Kenny Kingsborough, and Brian Melvin for bringing my heart and soul to life.  It is truly the most AMAZING song that I have ever heard and the most beautiful tribute to my HERO IN LIFE that could ever have been produced.
This is a song about my HERO IN LIFE, my son Eli and you can read his story at this link http://www.braveeli.com/about-eli/.  I'm asking that everyone help me to save children's lives by buying this song.  All profits go towards fighting childhood cancer in the name of the Eli Seth Matthews Leukemia Foundation, Inc. Please click going to this event and buy the song.  After that please invite all of your friends and ask them to invite everyone they know.  We need to get the number of people going to this event to over 1,000,000!!! This song needs to be heard around the world and I know that we can do this if we all work together.  People make change together and I bELIeve that together we can do this.
If you want to contact Mark Richey please do so at markaricheymusic@gmail.com
If you would like to contact Jason Fubler please do so at jfubler@gmail.com
Words and music by Mark Richey and Jason Fubler
Lyrical inspiration from Paul B. Matthews
Special thanks: 
Album cover designed by Jay Cunliffe Owner and Tattoo Artist Bonedaddy's Tattoo Aston, PA
Original art design of the Angel Wings and the Heart-Josh Bell from Howett's Screen Printing & Embroidery Oxford, PA
Mixed by Tony Correlli at The Deep End Studio, Baltimore www.thedeependstudio.com
Mark Richey: vocals, drums
Jason Fubler: guitars
Taylor Zimmerman: violin
Tony Correlli: piano, bass
Kenny Kingsborough: drums
Mixed and Mastered by Tony Correlli at the Deep End Studio
Recorded by Brian Melvin & Kenny Kingsborough at Fairgreen Studios
Additional recording by Tony Correlli at The Deep End Studio
To learn more about Mark and Jason please go to:
http://www.indiegogo.com/projects/chemical-red-new-album-fund
We can help them realize their dream like they helped me realize mine.
– Paul B. Matthews
Eli Seth Matthews Leukemia Foundation, Inc.