This year the Eli Seth Matthews Leukemia Foundation with Paul Matthews would like to donate Marble the Monkey to children fighting childhood cancer in Pittsburgh's Children's Hospital. Just like Curly from last year, Marble is $19.99. $8 of… EVERY monkey goes to the foundation, and the Marble the Monkey goes to a sick child. There will be a couple events that you can come out and see Marble in person. Saturday, September 21 at the Nottingham Church Craft Fair, and Saturday, September 28th at the Apple Festival in Oxford. Last year event… between the fall and the spring, 150 Bears were purchased and nearly every one was donated back to a child fighting cancer. 
Austin Matthews
,
Melody Matthews
, and I will deliver Marble to the children and the best thing is we show them some love, and put a smile on their face.  If you are out of town and can't make it please send $19.99 to the Eli Seth Matthews Leukemia Foundation PO BOX# 33 Oxford, PA 19363 and write Marble in the memo block and we will ensure Marble get's to Pittsburgh.  Thank you all so much.
Austin head Marble and I outside in the beautiful garden they have on the 6th floor.  This is before we left the hospital after handing out the Marble the Monkey's to there new friends.   I want to tell you these children were so happy it took everything I had to hold it together.   As I was already aware no photos are allowed with the children I did not ask.  I will give you the best details to paint the picture.  First we met 4 year old Gabe now as soon as I laid eyes on him I almost lost it.  This little boy had a scar across is whole skull from ear to ear in a sig sag motion just like our Angle Eli had.  I got on his level and looked in his eyes and handed him Marble he smiled so big and bright eyed and kissed Marble on the head and hugged him.  I read him the note Morgan wrote for me to give to the child.    He than said to Austin and I ( I'm able to run ).  With so much excitement in his voice….   Then we met 2 year old Travis and he was so happy precious his mom said he is getting ready for a bone marrow transplant with tears in her eyes.  We read him the note from Emma.  We than met with 7 year old Noah he loved getting Marble as well.  I showed him the photos of Marble eating all the goodies last night in bed and he smiled through his mask as I could see it in his eyes.  He said that's just like me…   We cannot thank everyone enough that donated a Marble back to The Eli Seth Matthews Leukemia Foundation.  You touched a child's life.  These children are fighting for there lives and needed this.  We love all of you.  Thanks Paul, Ruth, and Austin.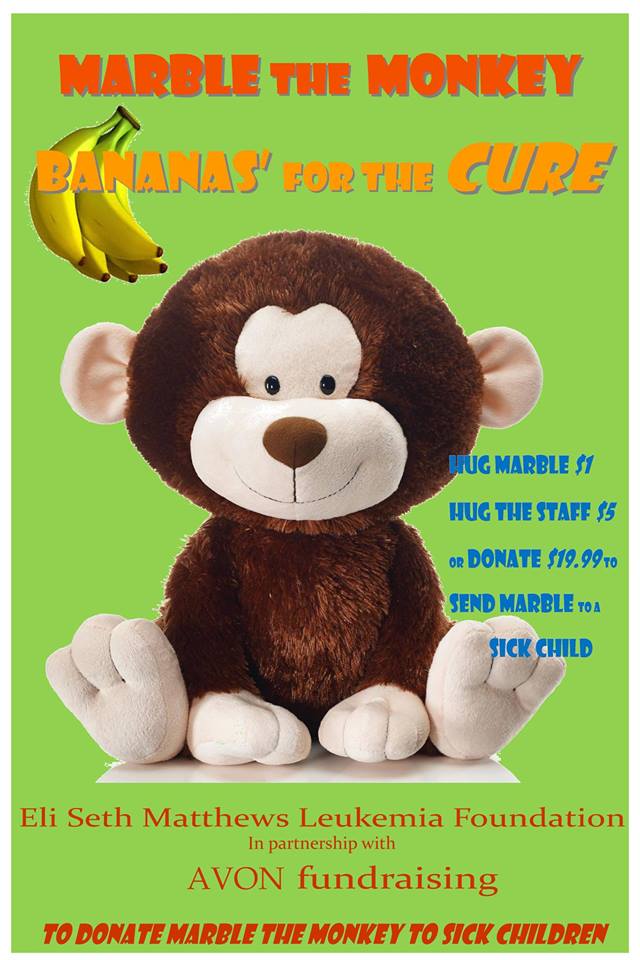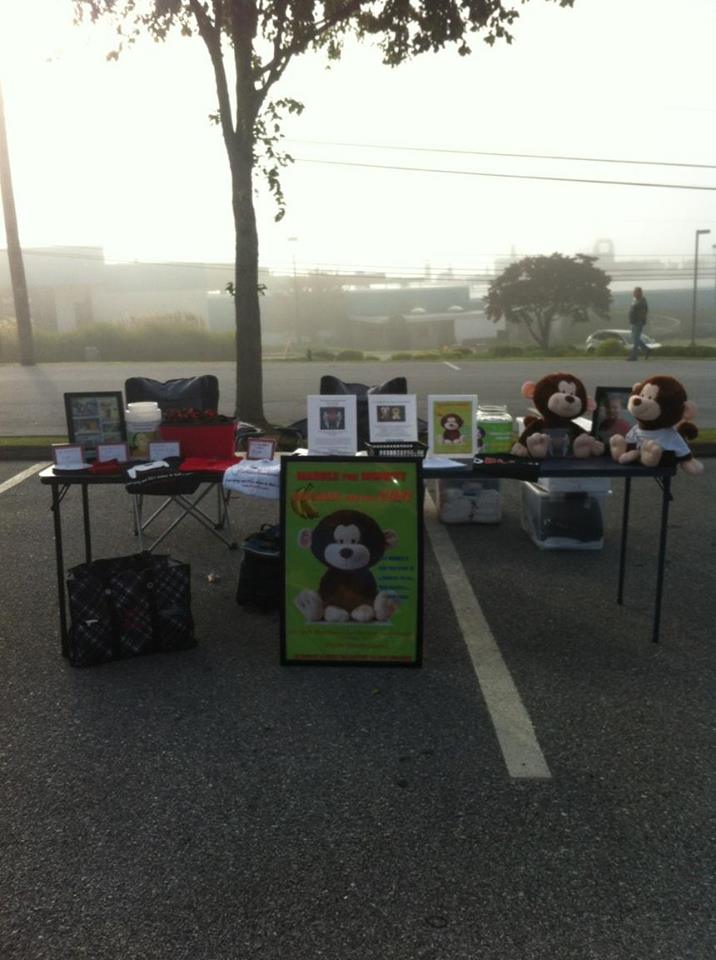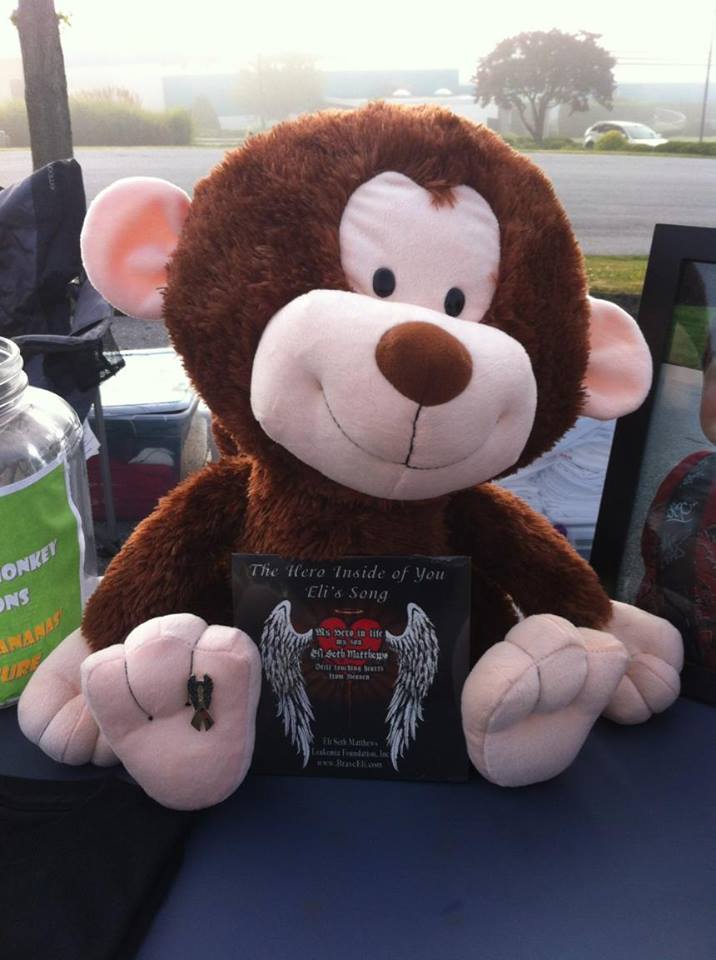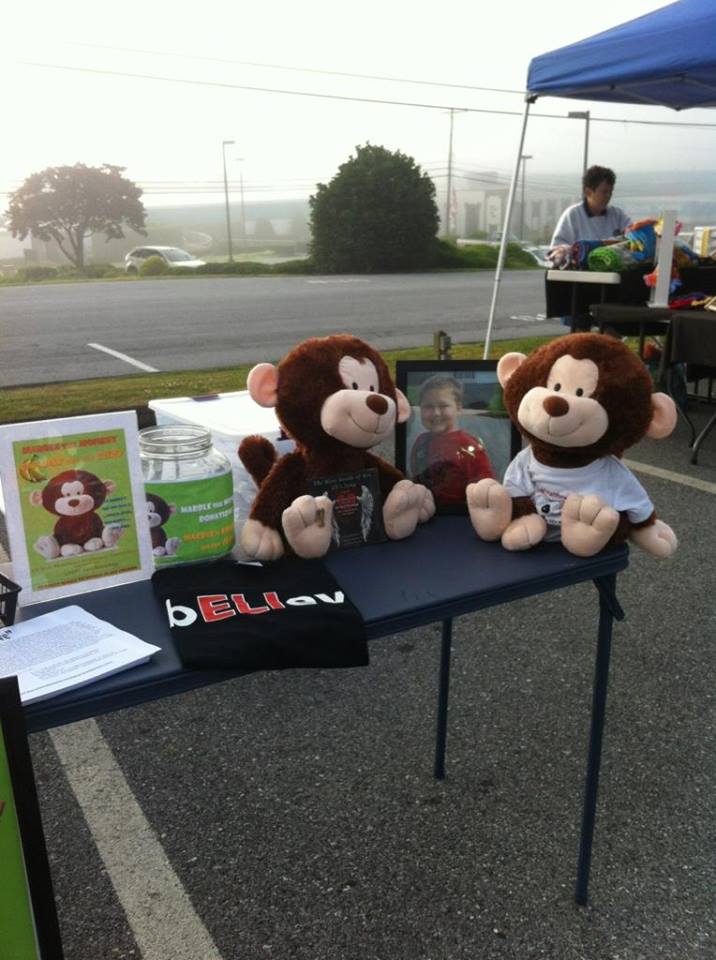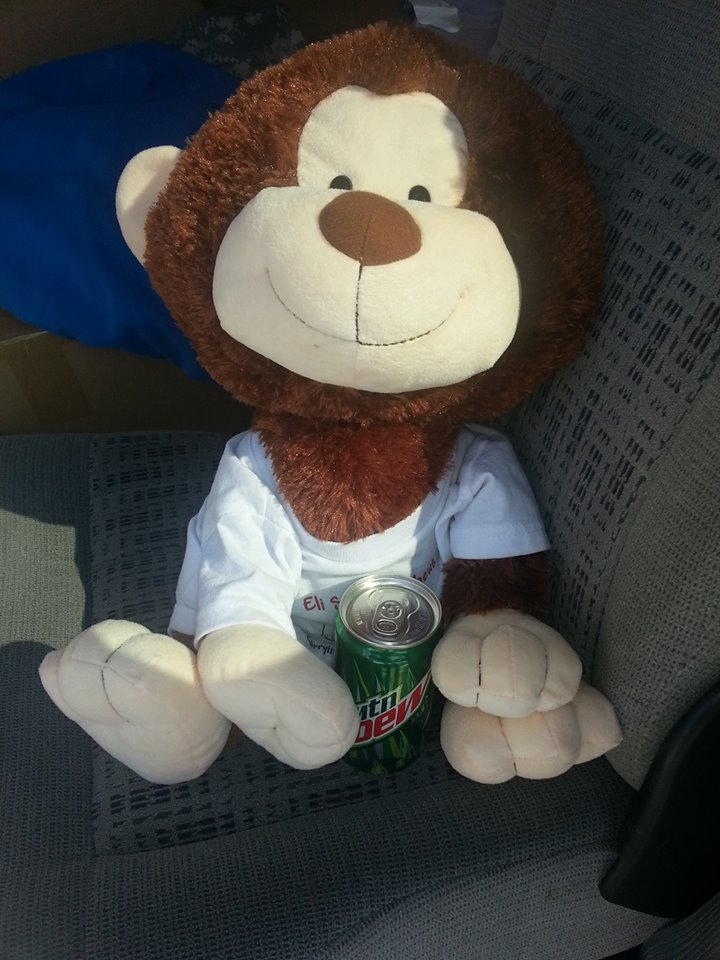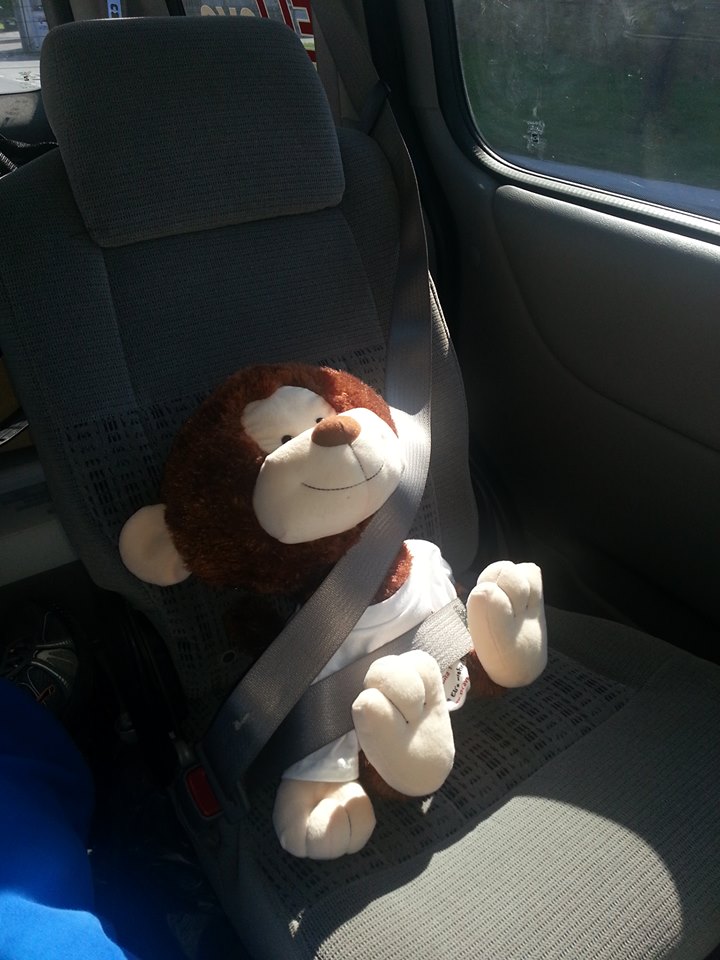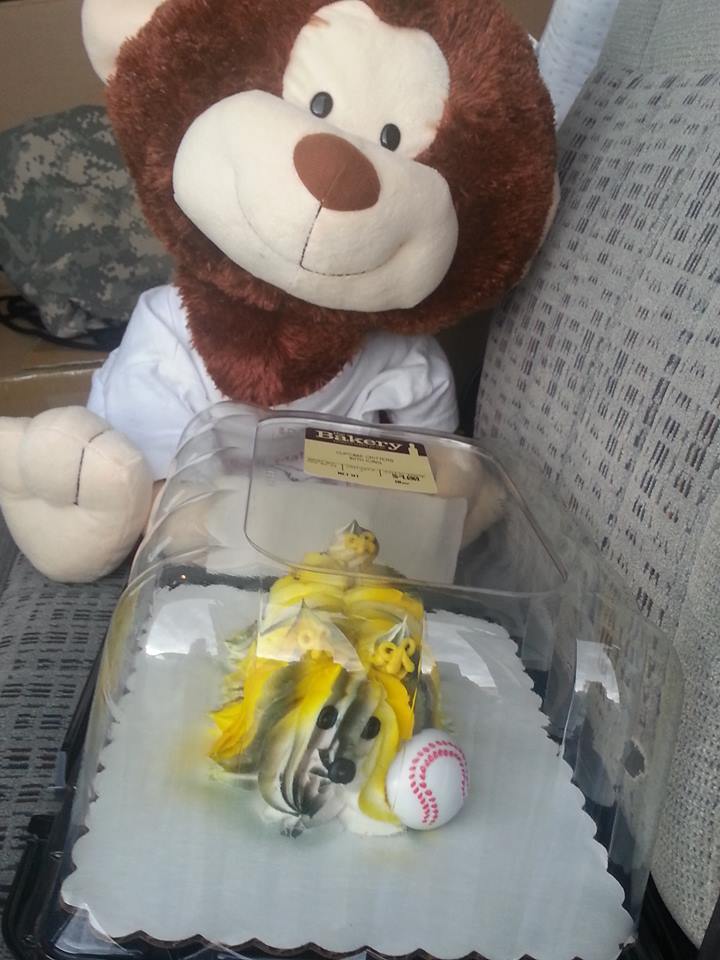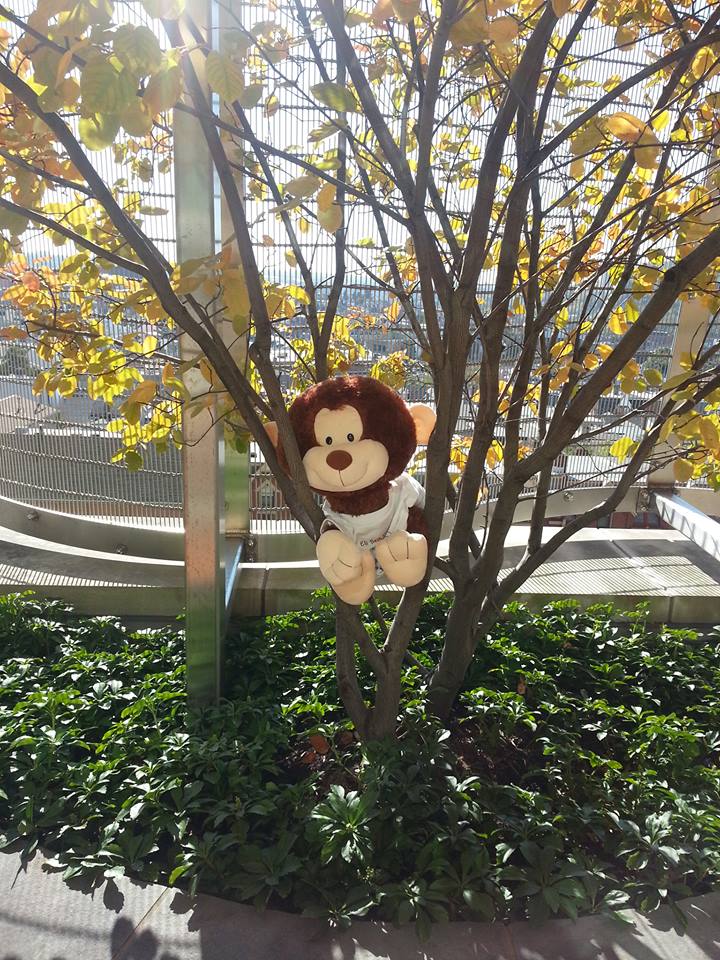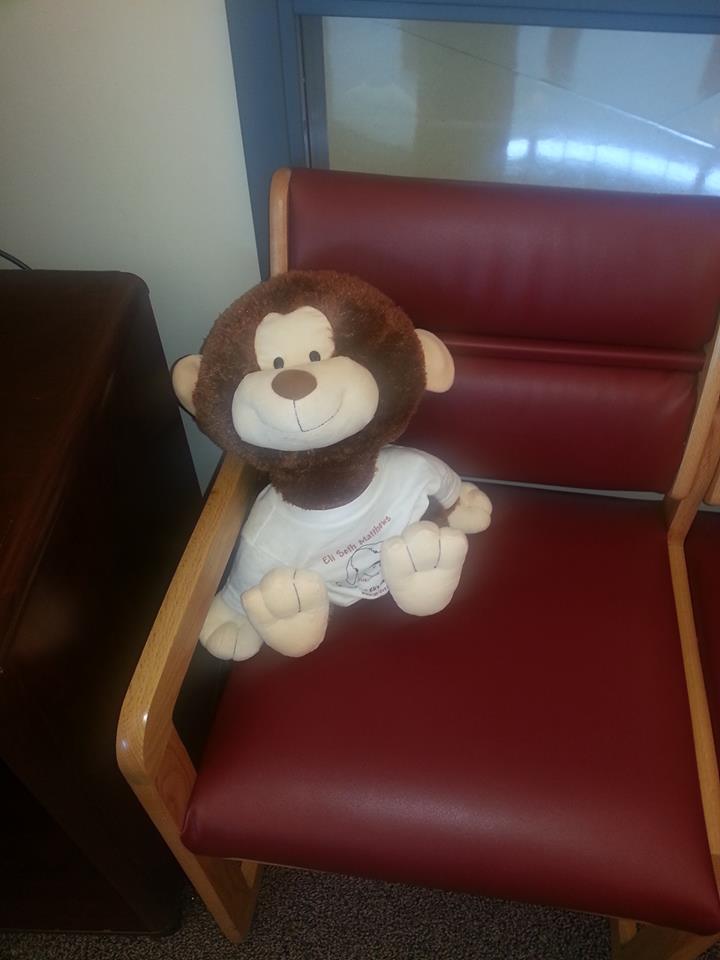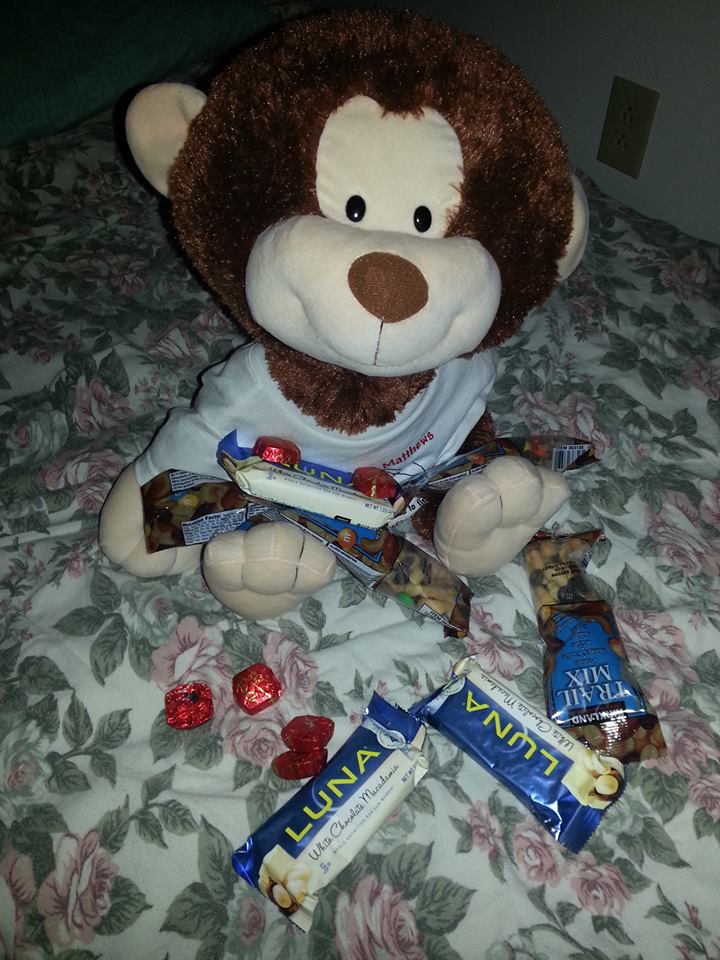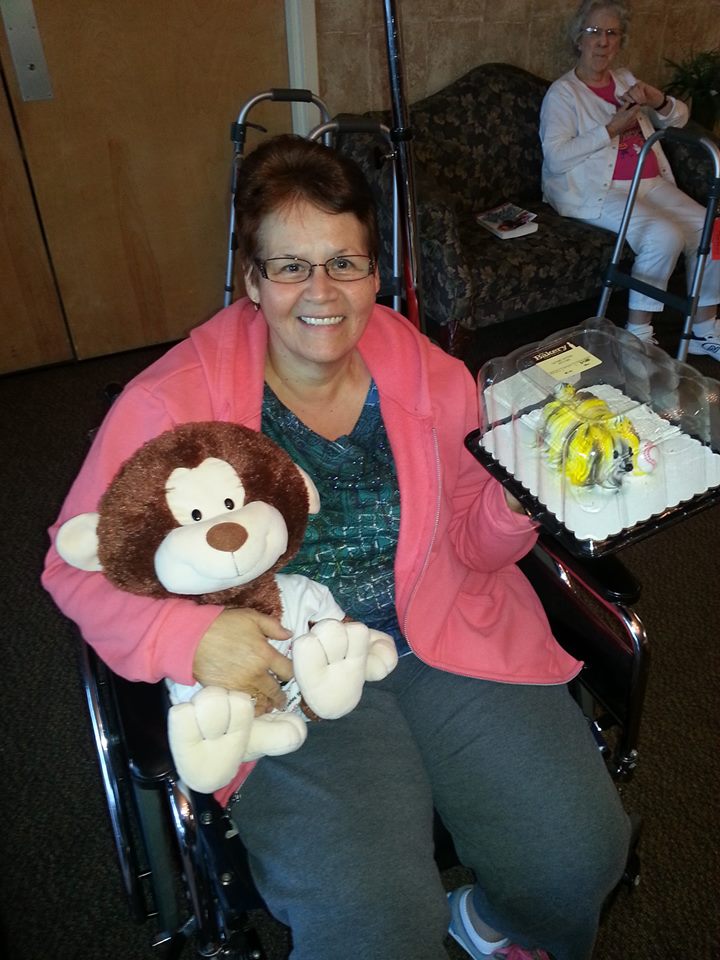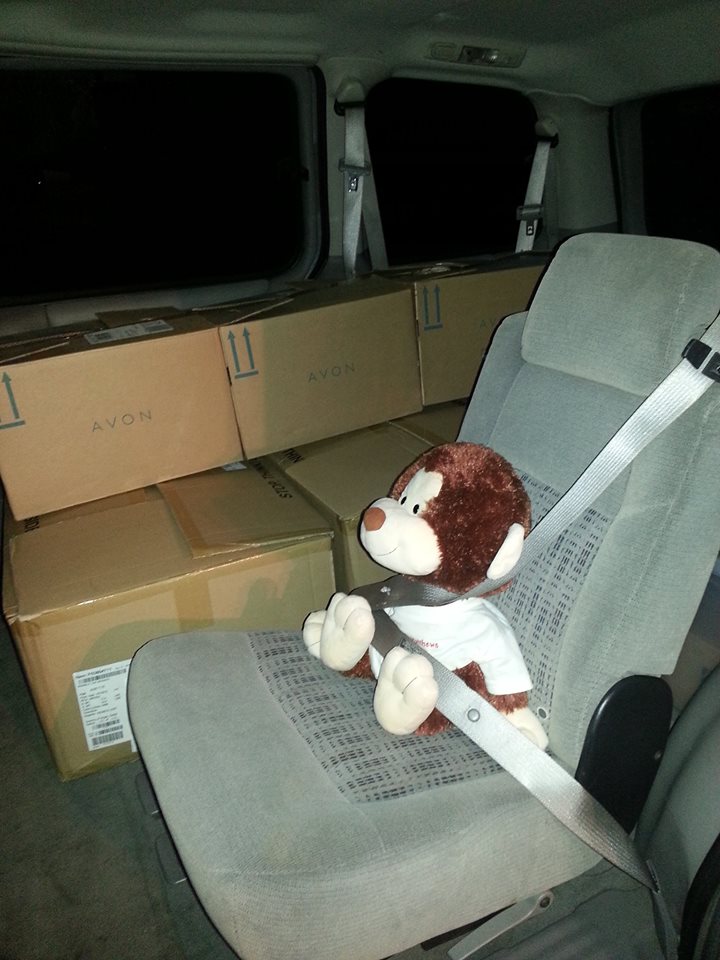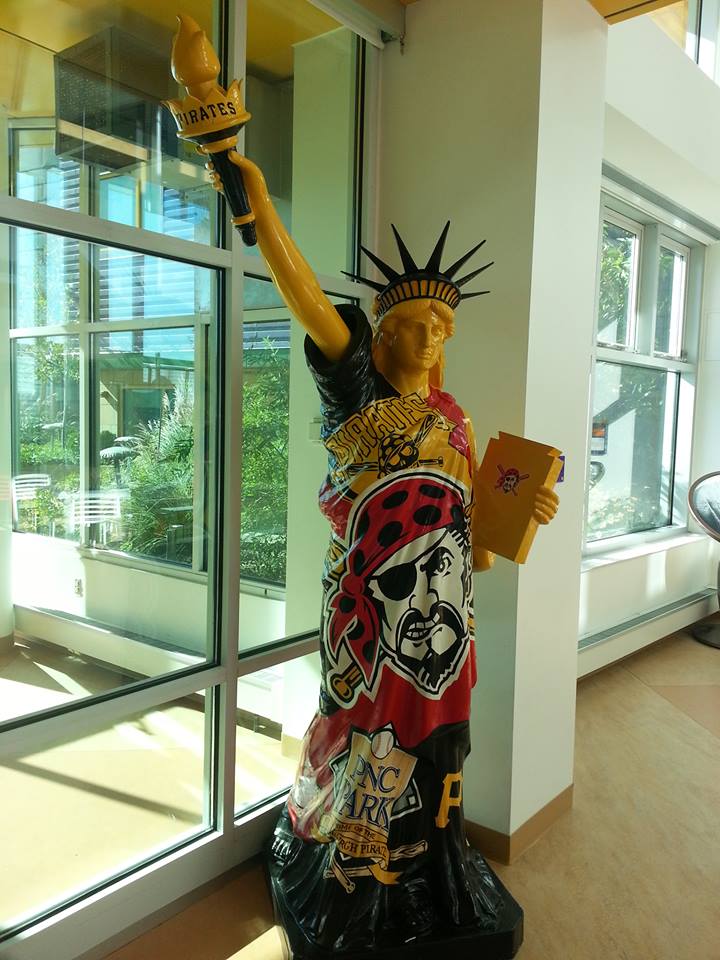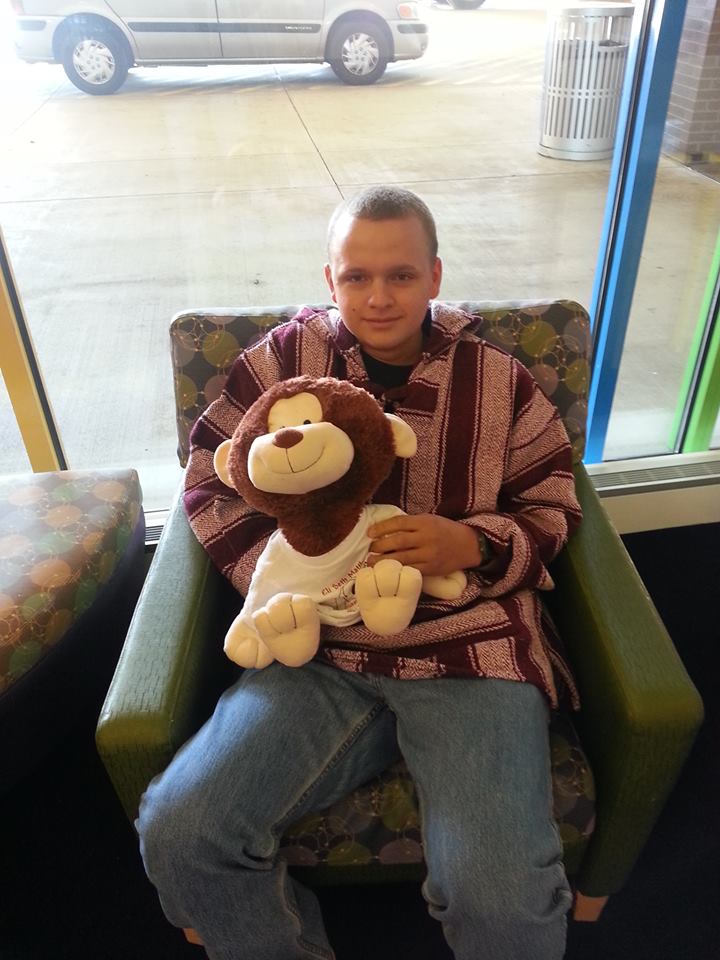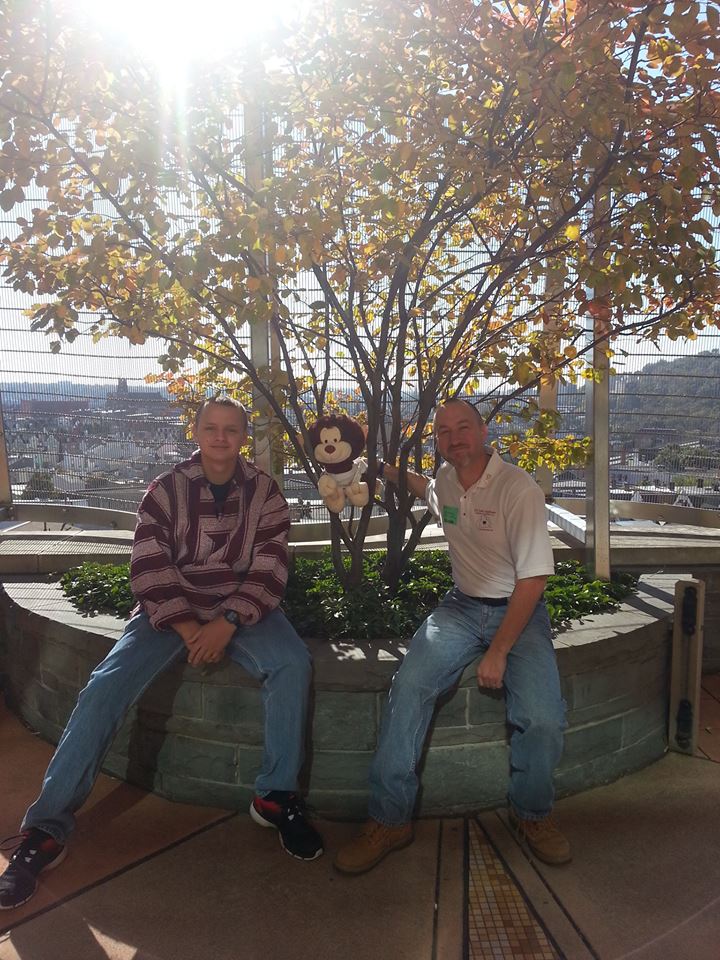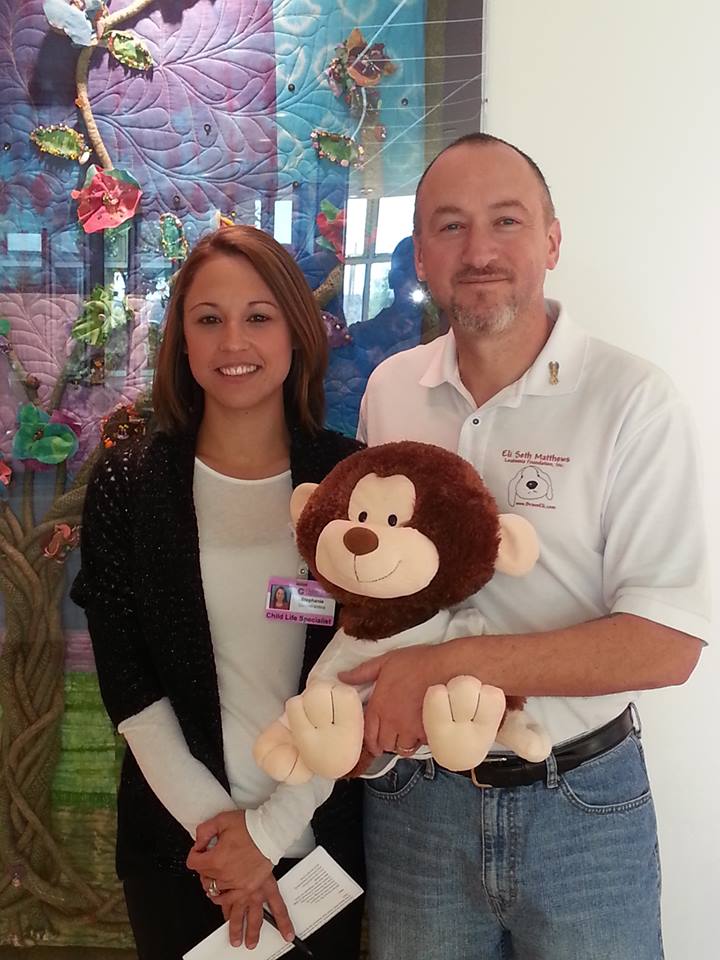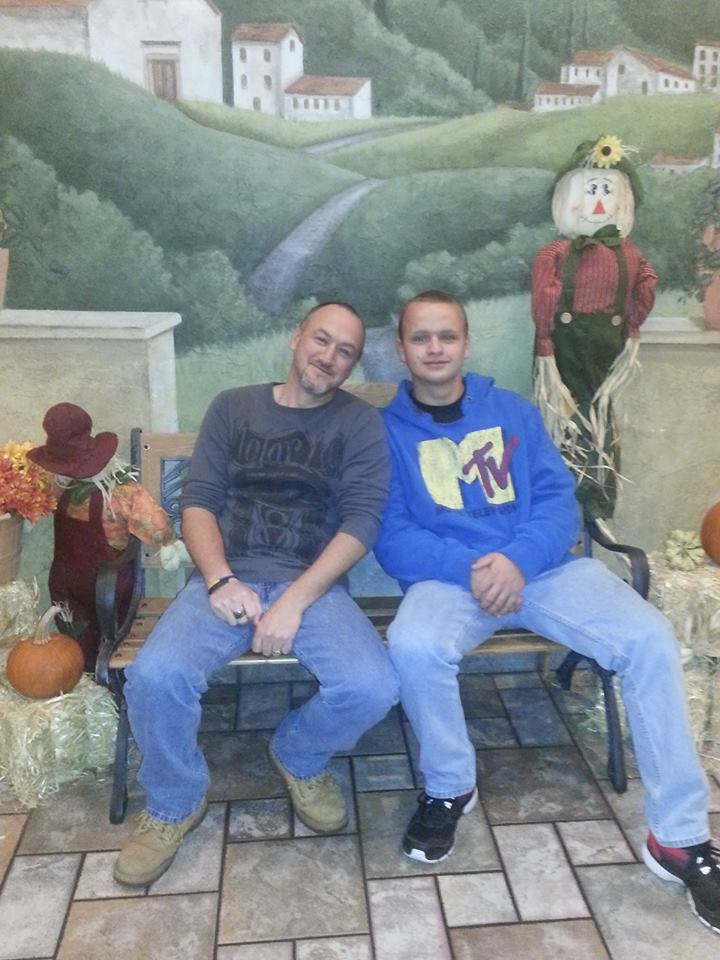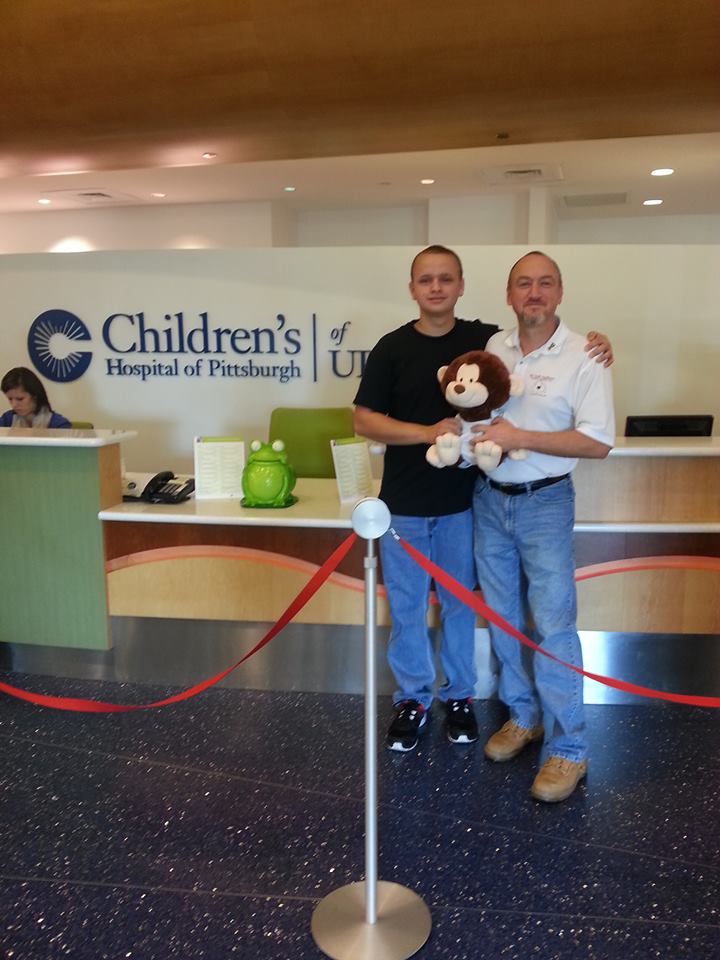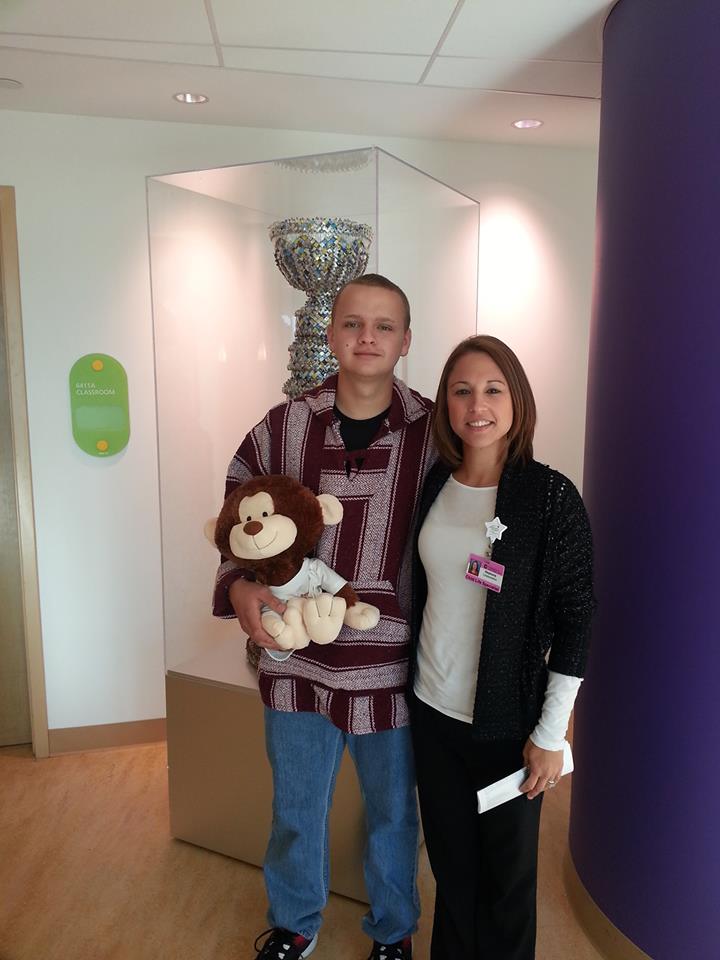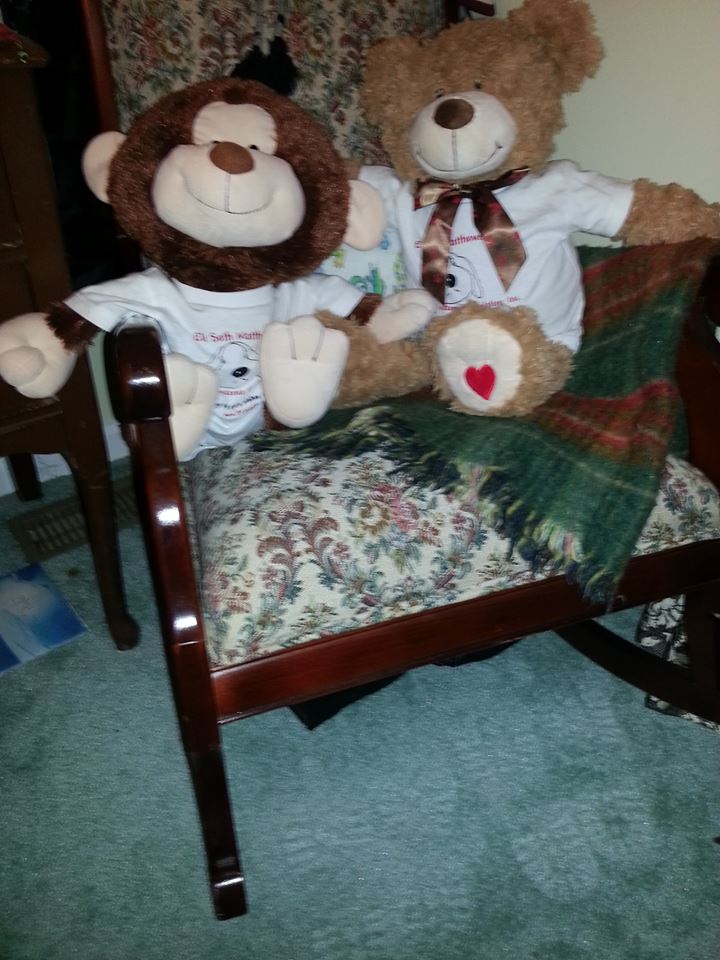 Head Marble the Monkey here.  I have completed a very important mission.  This was only accomplished because of all of you Eli warriors out there that donated one of my 50 friends back to the Eli Seth Matthews Leukemia Foundation.  You have made some very sick children happy and you also put a smiles on there faces.   Marble will love them and he loves to HUG!!!!  I now will rest I take my seat beside Head Curly the Bear.   As we join forces with Avon again next year we will see who the new friend will be.  Until than take care and HUG your children and tell them how much you LOVE them. — with
Austin Matthews
and
Amy Marshall
at
Eli Seth Matthews Leukemia Foundation, Inc.