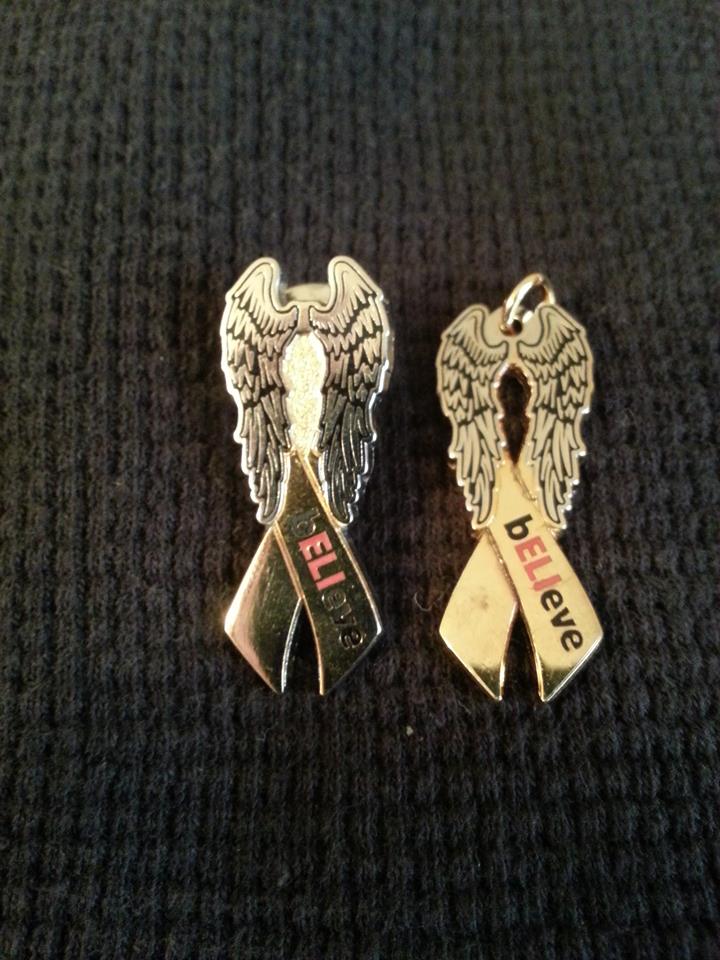 bELIeve Childhood Cancer Awareness Ribbon and Charm
The gold ribbon is the official ribbon of children with cancer worldwide.  This special one of a kind bELIeve childhood cancer ribbon was designed and created by Eli's Dad, Paul.  The wings are for every Angel that has been taken too soon, the bELIeve is in honor and memory of our son Eli who bELIeved in a cure for this terrible disease.  Please support this FIGHT by purchasing a Lapel Pin, Charm or BOTH.  Please jo…in this event and comment below on how many of each you would like. Please send a check made out to (ESMLF) or Eli Seth Matthews Leukemia Foundation, Inc.  Mail to PO BOX# 33 Oxford, PA 19363.  In the memo block please write how many of each you would like and I will ship them ASAP. Please share this event with every friend on your Facebook wall.  Let's get this around the world.
You must bELIeve in a cure, bELIeve in yourself, and show the color GOLD as we FIGHT childhood cancer not only in September for childhood cancer awareness, but every day 365 days a year until a cure is found.  Are you with me?  Let's do this Eli warriors!  Stand together in this fight for all of the children around the world!
1.25″ X .5" Custom bELIeve Charms – $ 10.00 each – 1.2mm thick with dual plating – Charm loop and jump loop attachment – Each charm will arrive packaged in an individual poly bag – FREE – Shipping to the continental US, Alaska and Hawaii
1.25″ X .5 Custom bELIeve Lapel Pins – $ 10.00 each – 1.2mm thick with dual plating – 8mm post with rubber clutch attachment – Each lapel pin will arrive packaged in an individual poly bag – FREE – Shipping to the continental US, Alaska and Hawaii