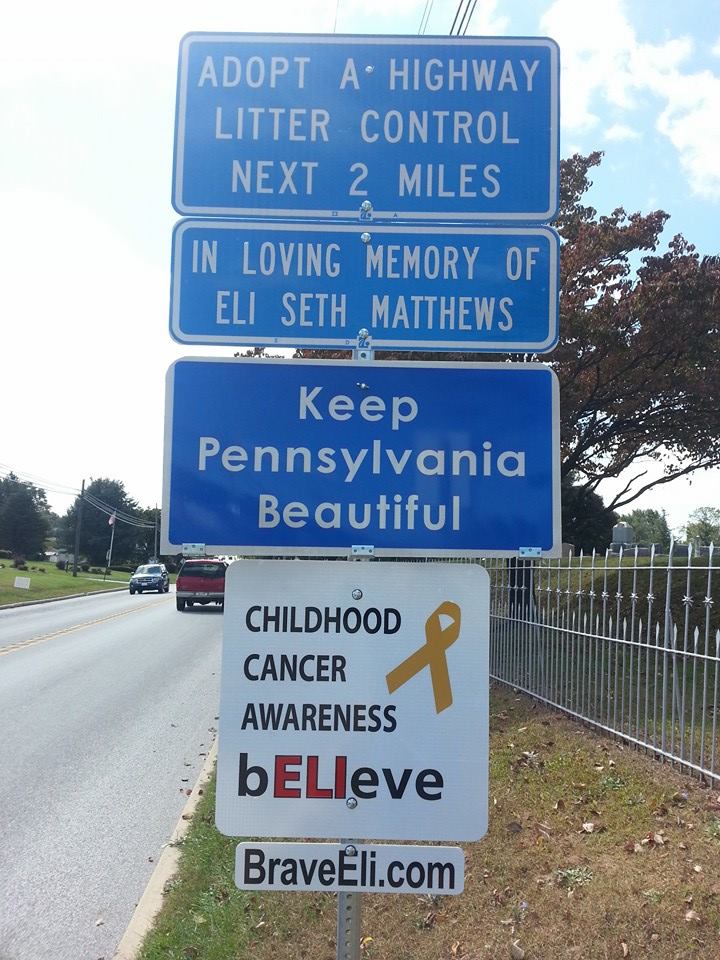 In loving memory of Eli Seth Matthews the Eli Seth Matthews Leukemia Foundation has adopted the highway starting at Wells Fargo and ending past Walgreens on Baltimore pike.
Okay the first clean up is scheduled for Saturday November 22, 2014.  I need Eli Warriors to help keep our wonderful town of Oxford clean.  You must be 14 years or older to help.   *If signatory is less than 18 years of age, Parent or Guarding must sign a form.
If you are interested in helping please message me or email me at BraveEli@zoominternet.net your address so I can mail the forms to you for signature.  I will also include a self addressed stamped envelope for ease of return.  I must have the forms returned by October 31st.  I need to take the forms into PennDOT to pick up the needed supplies for clean up.
1st clean up: Saturday November 22, 2014 Meet at Dunkin Donuts at 10:00 AM for a safety meeting
Thanks so much.
11/22/2014
Area beautification in memory of my HERO in life my son Eli.   Thank you all so much.  The next clean up will be in March, 2015….  With Eli's Warriors at La Sicilia in Oxford Historic Borough.
#bELIeve #BraveEli
Austin Matthews, Jennifer McKeon Middleman, Rachel Middleman, Fran Underwood